GEORGE FOX
An Autobiography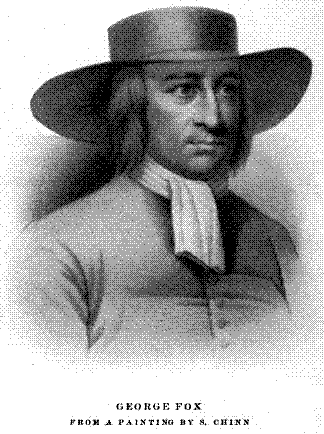 EDITED WITH AN INTRODUCTION AND NOTES BY
RUFUS M. JONES, M.A., LITT. D.
PROFESSOR OF PHILOSOPHY IN HAVERFORD COLLEGE
Scanned and edited by Harry Plantinga
This text is in the public domain.
"It (George Fox's Journal) is one of the most extraordinary and instructive narratives in the world; which no reader of competent judgment can peruse without revering the virtue of the writer."
-- SIR JAMES MACKINTOSH.
"The basis of his [George Fox's] teaching was the belief that each soul is in religious matters answerable not to its fellows, but to God alone, without priestly mediation, because the Holy Spirit is immediately present in every soul and is thus a direct cause of illumination. From this central belief flowed two important practical consequences, both essentially modern; one was complete toleration, the other was complete equality of human beings before the law."
-- JOHN FISKE.
"Fox judged truly that the new Protestant scholasticism had not reached to the heart of things in any image of past experience, or in any printed book however sacred: that academic learning was not in itself an adequate passport to the Christian ministry; that the words of God should not supersede the Word of God. He realized, as few men have ever realized, that we are placed under the dispensation of the Spirit: that the power from on high with which the risen Christ promised to endue His People was no exceptional or transitory gift, but an Eternal Presence, an unfailing spring of energy, answering to new wants and new labours. He felt that the Spirit which had guided the fathers was waiting still to lead forward their children: that He who spoke through men of old was not withdrawn from the world like the gods of Epicurus, but ready in all ages to enter into holy souls and make them friends of God and prophets."
-- BISHOP BROOKE FOSS WESTCOTT.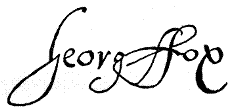 ---
Contents
Title Page
Preface
Introduction
The Testimony of William Penn
Chapter I. Boyhood -- A Seeker, 1624-1648.
Chapter II. The First Years of Ministry, 1648-1649.
Chapter III. The Challenge and the First Taste of Prison, 1648-1649.
Chapter IV. A Year in Derby Prison, 1650-1651.
Chapter V. One Man May Shake the Country for Ten Miles, 1651-1652.
Chapter VI. A New Era Begins, 1652.
Chapter VII. In Prison Again, 1653.
Chapter VIII. A Visit to Oliver Cromwell, 1653-1654.
Chapter IX. A Visit to the Southern Counties Which Ends in Launceston Jail, 1655-1656.
Chapter X. Planting the Seed in Wales, 1656-1657.
Chapter XI. In the Home of the Covenanters, 1657.
Chapter XII. Great Events in London, 1658-1659.
Chapter XIII. In the First Year of King Charles, 1660.
Chapter XIV. Labors, Dangers and Sufferings, 1661-1662.
Chapter XV. In Prison for not Swearing, 1662-1665.
Chapter XVI. A Year in Scarborough Castle, 1665-1666.
Chapter XVII. At the Work of Organizing, 1667-1670.
Chapter XVIII. Two Years in America, 1671-1673.
Chapter XIX. The Last Imprisonment, 1673-1678.
Chapter XX. "The Seed Reigns over Death", 1679-1691.
---
Other formats available: @RTF [1860K], @pdf [895K], text [842K]
---
This document (last modifiedApril 13, 1997) from Believerscafe.com

Home | Bible versions | Bible Dictionary | Christian Classics | Christian Articles | Daily Devotions

Sister Projects: Wikichristian | WikiMD

BelieversCafe is a large collection of christian articles with over 40,000 pages

Our sponsors: